General, Mattress protector
April 5th, 2012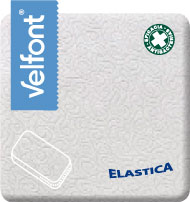 Once again Velfont has created a product line. In this case Bamboo product line: the highest quality with natural antibacterial properties.
The Bamboo quilted mattress protector is made ​​from bamboo yarn. Bamboo yarn provides natural antibacterial properties, extra softness and natural freshness, and a maximum absorption level, as it is more absorbent than cotton.
A quilted mattress protector is always necessary to protect the mattress and to get a greater comfort during our rest. This quilted mattress protector also relieves the pressure on the contact points of the body with the mattress, providing a healthier rest. The filling of Velfont quilted mattress protectors favors the air stream inside it, guaranteeing a proper transpiration.
The Bamboo quilted mattress protector is made with 100% terry bamboo fabric, its filling is 70% polyester-30% Bamboo and it has a 100% cotton base.
Besides, this quilted mattress protector is machine washable to assure the maximum hygiene.
Deja un Comentario