Sleep, General, other protection, Mattress protector
No hay Comentarios »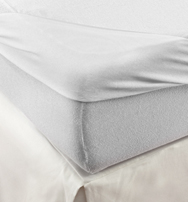 The rest of the baby is very important for your health, well-being and proper development. The baby has a specific sleep needs and sleep should be deep and quiet. It is therefore essential that their resting place is fully equipped to perform these functions. Items Velfont crib are designed to ensure maximum hygiene and protection and achieve optimal comfort in the rest of the children.
The Velfont cot mattress protector combines a total waterproofness a high degree of breathability. Besides ensuring protection against liquids, it is an effective barrier against germs and bacteria. It is very important that the mattress protector is waterproof, to prevent the cot mattress spoilage with diaper leakage or vomiting, so common in the first months of the baby's life. But, at the same time, it must be breathable and made of a natural soft fabric, so the baby does not sweat and can sleep as comfortable as possible, ensuring a proper rest. Velfont cot protection products are specifically designed to ensure the maximum hygiene and comfort in the sleep of our baby.
Another Velfont product that is indicated to ensure a complete hygiene is the Velfont  cot mattress cover, which protects the mattress completely. Velfont Satin Stripe cot mattress cover includes an L-shaped zipper that guarantees an easy fit. Its fabric is made of 100% cotton, so it is machine washable without any problem as many times as necessary to maintain hygiene, comfort and protection in our baby's sleeping equipment.